Executive NeuroMindfulness® Retreat
Provence, France
April 28th – May 3rd 2019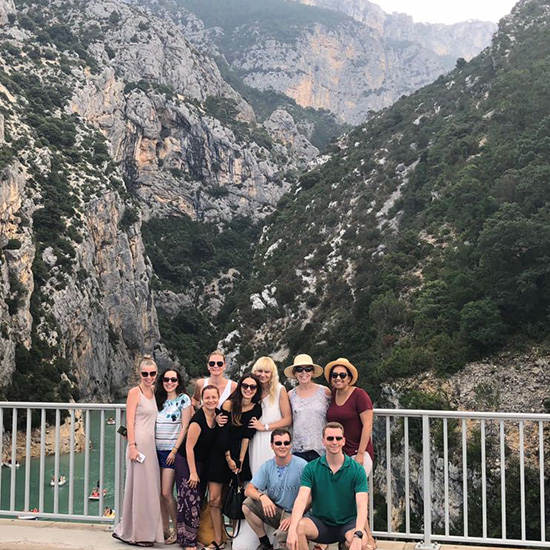 A transformational week of Neuroscience, Mindfulness and Yoga to nourish your Body, Mind & Spirit, supported by Neurofeedback technology.
Our mission : We want to inspire people to raise their level of consciousness and make a difference in the world.
This NeuroMindfulness® Retreat is for us a way to live this mission by supporting people who join us to live a mindful life. Once they make their inner shift, everything around them positively changes.
Our commitment: everything we share is supported by Western science and by 5000+ years Eastern traditions. We do not share anything that we haven't practiced for years!
This retreat is for you if:
You are a busy business executive or entrepreneur willing to take a dynamic, active break in a stunning place together with like-minded & like-hearted people
You are going through personal or professional changes
You are a coach, trainer, consultant who wants to experiment and enrich your approach with neuroscience and embodied practices
You want to slow down and practice living in the now
You want to discover Mindfulness practices such as Pranayama (breathing exercises), Mindful Eating, Mindful Conversations, Meditation and Yoga
You would like to build a daily routine that can be practiced at home (pranayama, meditation, yoga and other mindfulness practices)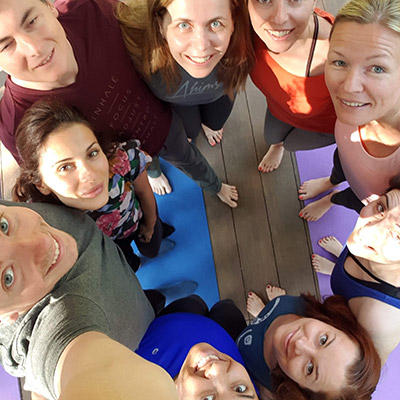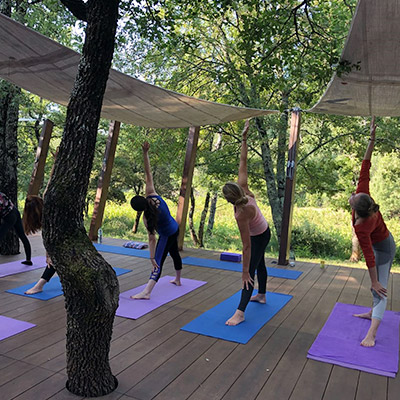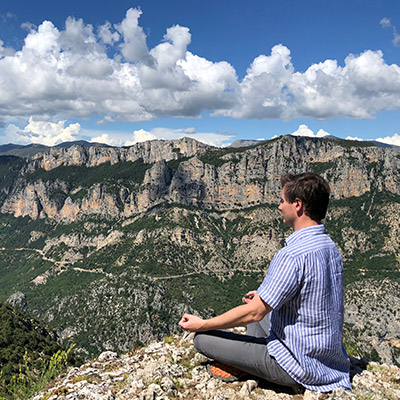 What to expect from this experience?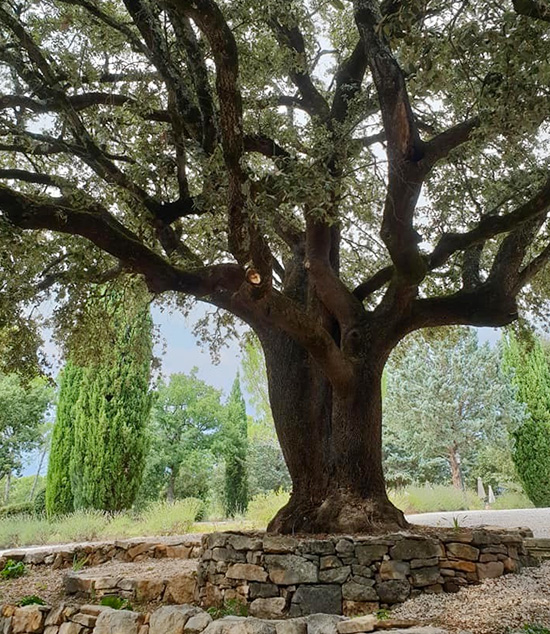 We have lived a busy, active business life for the last 15 years and we've created our retreats having in mind the question: how can we create an inspiring experience that will support active professionals to disconnect from day to day activities and reconnect with their deeper self?
It is a place to slow down, reflect on where you are in your life, consciously decide where you want to go next, and connect with like-minded people.
Typical daily schedule:
07:30 – 09:30 – Morning meditation, pranayama and hatha yoga
09:45 – 10:45 – Healthy, delicious brunch
11:00 – 14:00 – Workshops on: neuroscience, mindfulness, values-driven/ purpose-driven life
14:00 – 17:00 – Personal reflection / Peer coaching / Free time (relaxing, nature walks, hiking, cycling, reading, meditation in nature)
17:00 – 18:00 – Hatha yoga class
19:00 – 20:30 – Healthy, delicious dinner cooked by a chef
20:30 – 21:30 – Evening meditation, yoga nidra, life stories sharing or outdoor movie evening
Bastide Avellanne is located at the heart of Provence. It is a beautiful 17th century fortified villa, a luxury bed & breakfast set in a private park of 3 hectares, where the colors of the olive trees and centuries old oaks blend with the perfumes of lavender and rosemary. In this small Mediterranean paradise, you will find a heated swimming pool, giant chess, tennis, pétanque courts and bicycles to rent.
For more information on the location, please visit: http://www.bastideavellanne.eu/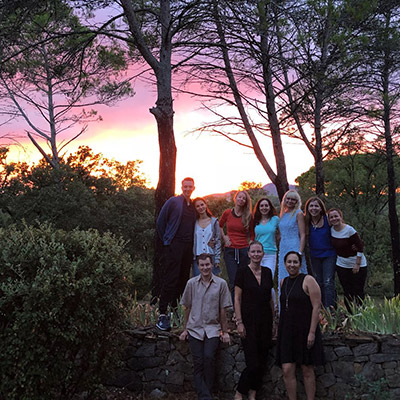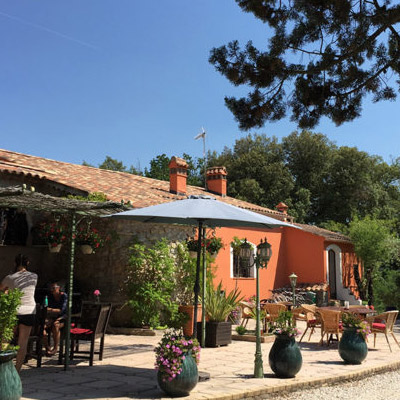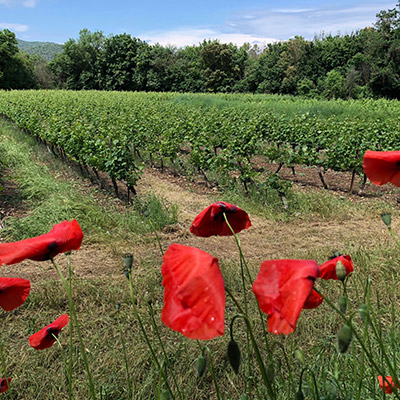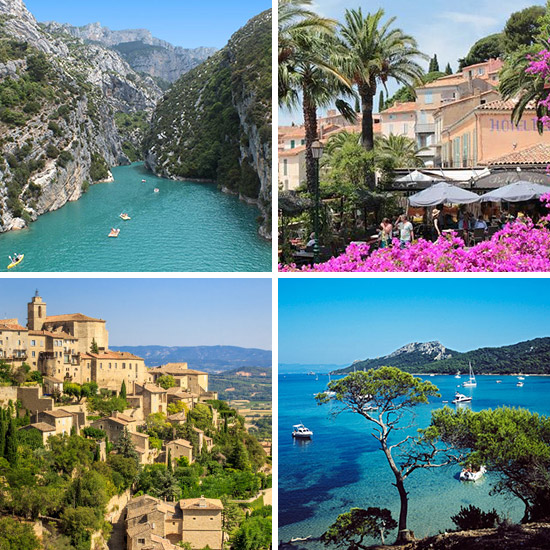 The property is situated only 30 minutes from the sea and from the Cote D'Azur between Cannes, St Tropez and Hyeres, (from where the ferry to the nearby Islands of Porquerolles, Port Cros and Levant departs) with its hundreds of kilometers of white beaches, rocky capes and wild bays is considered the most beautiful coastline of France.
It is also close to the National Park of Gorges de Verdon and to the most picturesque Provencal villages and towns like Bormes les Mimosas, Cotignac, Thoronet with the 11th century Abbey, Aix en Provence, Le Castellet, Marseille and Nice with their international airports.
The retreat program includes a 1 day tour of the breath-taking Gorges du Verdon, the largest Canyon in Europe, with a meditation and pranayama in nature.
Some optional trips will also be proposed to other locations such as the Island of Porquerolles and neighboring typical Provencal villages.
The colorful and tasty menus celebrate Provencal, international and Mediterranean flavors and are prepared by an in-house chef from fresh, local organic ingredients. Brunch consists of eggs, fresh fruit and juices, homemade granola with farm-fresh yogurt, croissants and baguettes. These are prepared fresh for you each morning. Dinner will be enjoyed on the terrace in the shade of the oak trees, or served by candlelight under the pergola or in the veranda. Upon the arrival, before we start the retreat, the wonderful hosts will welcome us for a wine and cheese tasting experience.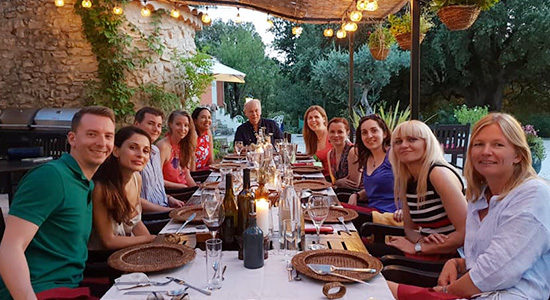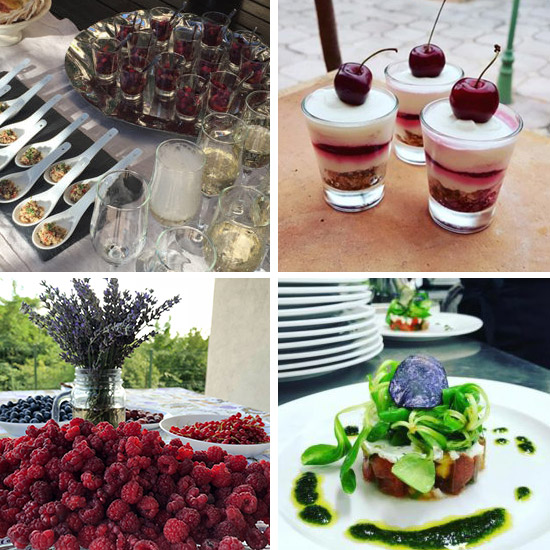 The retreat experience will take you through a 3 steps transformational journey combining a bit of theory with a lot of practices: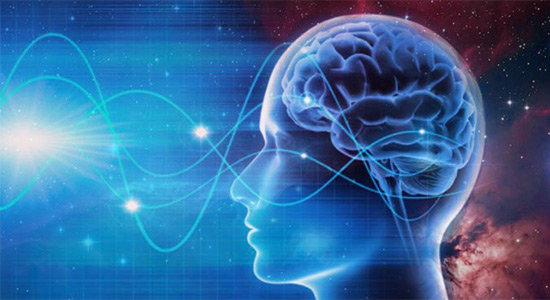 1. Self-discovery
How the brain works (brain waves, neuroplasticity, brain polarity, decision-making)

What are your limiting beliefs and triggers

What are your values and purpose

Going beyond the ego and listening to your deeper self

The yogic view of our body-mind-spirit continuum
2. Self-mastery:
How to deal with triggers: do not let your amygdala do the talking

From Mindlessness to Mindfulness: how to overcome the Default Mode Network

How to connect with your body and breath

The 3 main steps of Mindfulness: Focused attention, meta-awareness, cultivate positive qualities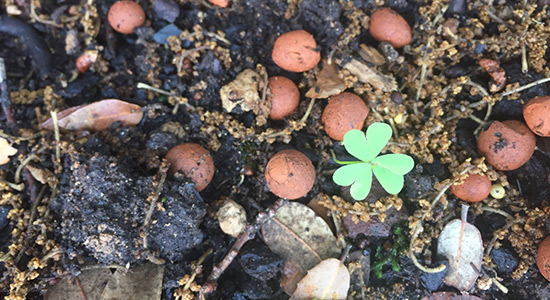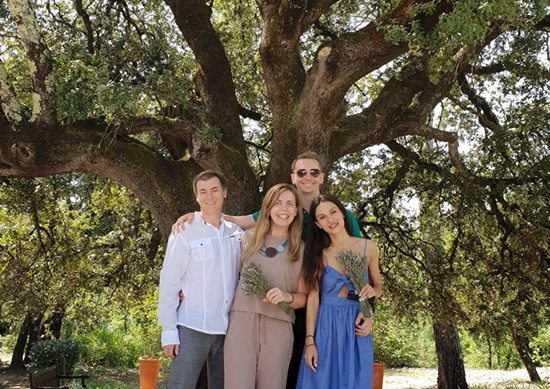 3. Living a mindful life:
Elements of a Mindful life:

Being true to your values

Live your purpose

Build mindful relationships

How caring for others can bring you self-confidence, resilience, and joy

From empathy to compassion: neuroscience and mindfulness approach

How caring for others can bring you self-confidence, resilience, and joy

From empathy to compassion: neuroscience and mindfulness approach
Yoga sessions will take place outdoor as much as the weather allows it. An indoor studio is also available in case the sky contradicts our plans. Our teaching is based on a traditional Hatha Yoga lineage, and all levels are welcome from beginners to more experienced practitioners. The practice is adapted to the level of each participant, both gentle and very safe, and at the same time offering challenges for those who wish to try more advanced postures.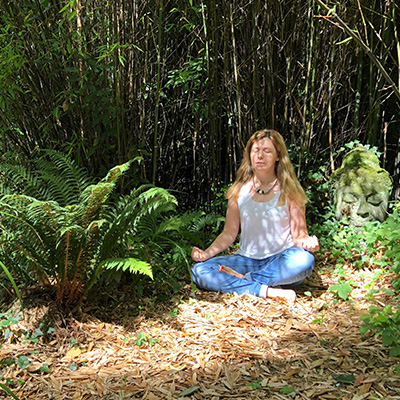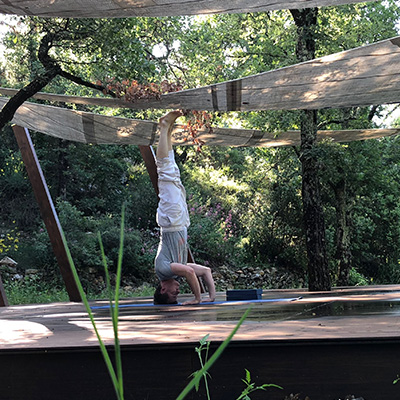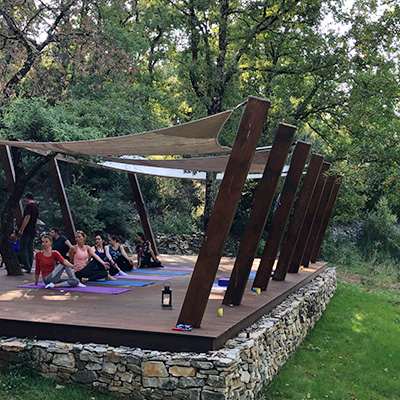 Prices and What's Included
Retreat full price: 2500€*
Deposit to book your place (non-refundable): 1000€. Final balance due 60 days before retreat start date.
(*) Price based on double room occupancy – additional charge for single occupancy = 660€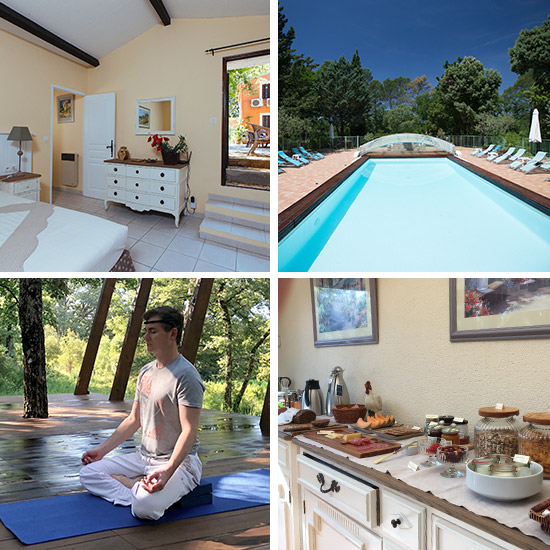 What is included?
Villa accommodation (spacious bedrooms, linens, air-conditioning) for 5 nights

Neurofeedback meditation device: brain sensing headband to assist your meditation practice (value 250€)

Organic gourmet brunch and dinner**

Daily meditation, pranayama, yoga and workshops

1:1 follow up coaching session via Skype 3 months after the retreat

Use of estate premises (hiking trails, pool, tennis courts, etc.)

Cheese and wine tasting upon arrival

Yoga equipment (yoga blocks, straps, mats, blankets)

Tips & taxes
(**): Meals are vegetarian during the retreat to support your practice, except the first evening (fish). Special dietary restrictions can be accommodated.
Optional:
Additional nights at Bastide Avellanne over the WE.

Day trip to Gorges du Verdon and lunch (after the retreat)

Additional day trips (eg. visit of Porquerolles island)

Transfer from and to airport / train station

Range of luxury beauty and relaxation treatments

Bicycle rental
The main 3 options to get to the location from outside France are:
Nice airport (1h15 drive)

Marseilles airport (1h15 drive)

Aix en Provence TGV station (fast train from Paris) – 1h drive from Bastide
From your airport or train station, you can rent a car or we can arrange transfer at an extra cost, or you can take a local train from Marseilles to Carnoules station (15 min from Bastide).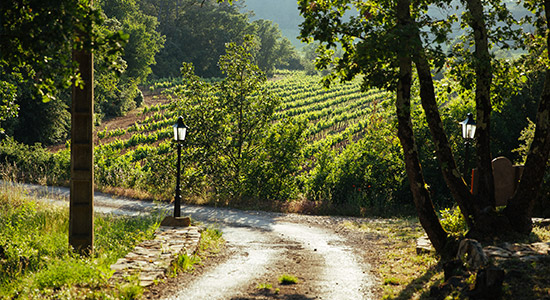 What our participants say
Our participants joined us from London, Paris, Dubai, Singapore, Poland, Romania, Dallas, Norway. What they say about the experience:
"I rediscovered what life is about, connecting to my body and the less cognitive sides of myself, spending time with amazing and inspiring people."
"The retreat helped me sort my mind out, get ideas how to control my mind better."
"Main benefits for me: learning yoga, meditating daily using the neurofeedback device, discovering some things that I was doing in the last year and that overwhelmed me or it was not aligned with my true self; looking at life in perspective, feeling good, optimistic, balanced."
"I felt very safe and "contained" during the retreat and I very much appreciated everyone sharing their deep stories. Their honesty was impressive and I had many "AHA" (gamma waves) moments."
"I liked the connection we had as a group, the feeling that everyone is valued for who he/she is, the neuroscience information."
"I liked the most: the excellent balance of the experience; Arno and Vero's combined energy; the mix between mind and soul; the food and the talks."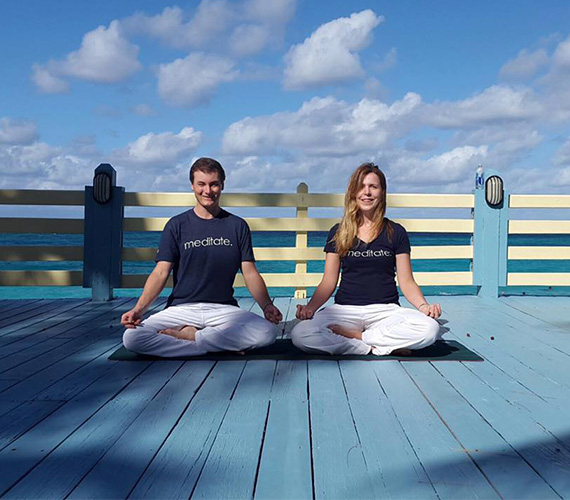 Fly Through Life® was created by Veronica Brejan and Arnaud Complainville, two passionate business executives.
Our mission is to inspire leaders to raise their level of consciousness and make a positive difference in the world.
Our values are freedom, growth, fun, joy and making a difference.
Together we have:
30 years of international business experience within 10 organizations (BCG, KPMG, Vodafone, Cargill, Alstom, Yum!Brands, CNRS, LFB etc.).
Top tier education in science, business and coaching: 1 PhD in Biology, 2 MBAs, ICF Coaching Certification, Evolutionary Coaching, Transpersonal Coaching, NLP & Time Line Therapy and Hypnosis, Positive Psychology, Leading with Heart Master Practitioner.
Both of us are certified yoga teachers: (International Sivananda Yoga Vedanta Centre).
Hobbies: skydiving, yoga, traveling the world, nature hikes, mindful living.